Weight management is the process of adopting long term lifestyle modification to maintain a healthy bodyweight on the basis of a person's age, sex and height.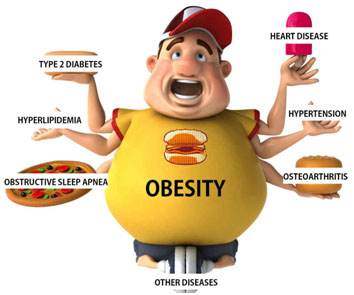 BODY MASS INDEX. (BMI)
Body mass index is the recommended method for diagnosing over-weight. It enhances the relationship between body weight and height.
BMI =weight in kg/height in meter square
                      Over weight      ———–>    BMI of 25 and above
      Normal weight     ———–>       18.5 to 24.9
         Underweight      ———–>         Below 18.5
RISK FACTORS OF OVER-WEIGHT.
Heart diseases
Stroke
High blood pre ssure
Diabetes
Osteoarthritis
Gout
Gall bladder stones
Cancer
ROLE OF AYURVEDA IN  WEIGHT MANAGEMENT
Ayurveda treatment for weight loss plays a vital role in weight management ,rather ayurvedic weight loss is very safe..Ayurveda understands your body physiology which helps in enhancing metabolism of the body. Weight management always begins with a detox plan, followed by other treatments like udwarthanam, choorna panda swedanam, danyamladhara etc.ayurvedic medicines for weightloss also helps in this procedure under the guidance of trained physicians
Yoga and meditation also helps in balancing hormones and stress.
A HEALTHY LIFESTYLE CAN BENEFIT YOU IN VARIOUS WAYS.YOU WILL LEAD A HAPPIER LIFE FREE FROM ANY TYPES OF DISEASES.
 SUKHINOBHAVANTHU
Dr Reeshma ,M.D
Centre Head -Bangalore
Travancore Ayurveda