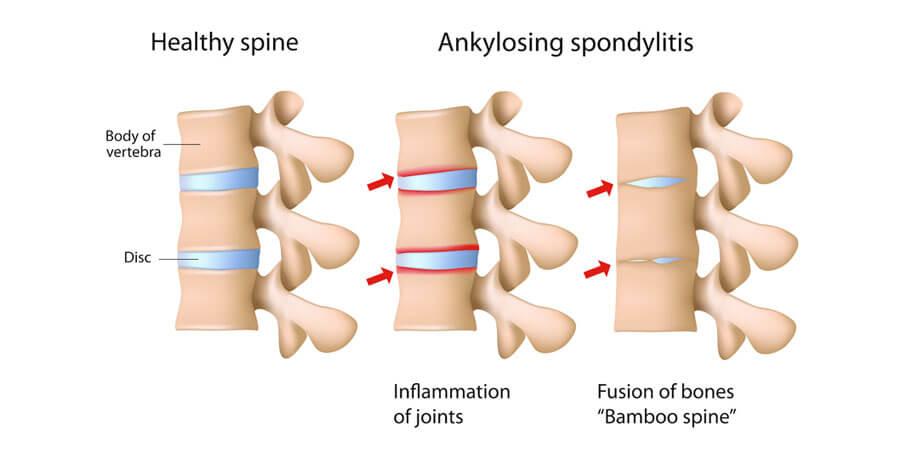 ANKYLOSING SPONDYLITIS:
Ankylosing spondylitis is a chronic inflammatory disorder that primarily involves the sacroiliac joints and the axial skeleton. There is also a variable involvement of peripheral joints and articular structures. Musculoskeletal pain, stiffness, and immobility of spine due to this is a major burden.
The vertebrae may grow or fuse together resulting in a rigid spine. These changes may be mild or severe and may lead to a stooped posture. Early diagnosis and treatment helps in controlling pain and stiffness and may prevent significant deformity.
Symptoms of Ankylosing Spondylitis:
Pain and stiffness are the primary symptoms one might experience. Pain can be seen in the regions of low back and hip joint.
Bony fusion is another sign in this condition where the vertebrae fuse together leading to a hunched back posture.
It can also affect the neck leading to inability to turn the neck.
It is also associated with other systemic symptoms like Iritis (Inflammation, redness in the eyes), Fever, Fatigue and Loss of appetite.
In some rare cases it may also be associated with heart and lung diseases.
Treatment for Ankylosing Spondylitis:
Ayurveda has a very effective approach to the treatment of inflammations even those of auto-immune nature.
Travancore Ayurveda provides various Panchakarma treatments such as Abhyangana, Elakizhi, Podhikizhi, Kasaya dhara, Basti treatment etc. Along with treatments, internal medicines, yoga and exercises are also suggested. It is advised to consult Vaidya/Doctor before starting the treatment.
Dr Ritesh Lahoti ,M.D
Centre Head ,Gachibowli
Travancore Ayurveda