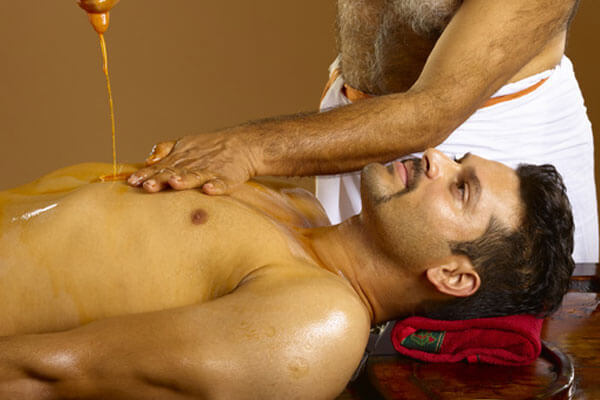 Ayurvedic Body Massage
The term Pizhichil means 'to squeeze'. Known as a kind of Sarvangdhara ('Sarva' meaning the entire body and 'dhara' meaning a stream) it is described as the pouring down of oil on the entire body. Broadly Pizhichil is divided into two types of massages. One is known as the oil therapy. While the other is referred to as the heat therapy. The massage is mild in nature and leaves you feeling relaxed and refreshed.
It is one among the rare and special treatments of Kerala. In this treatment, lukewarm herbal oils are applied all over the body by two to four trained therapists in a special rhythmic way continuously for about 60 to 90 minutes per day for a period of 7 to 21 days. This treatment is done in a special table made from a single piece of Strychnos Nuxvomica wood. This treatment is very useful for Rheumatic diseases like arthritis, paralysis, hemiplegia, sexual weakness, nervous weakness and nervous disorders etc.