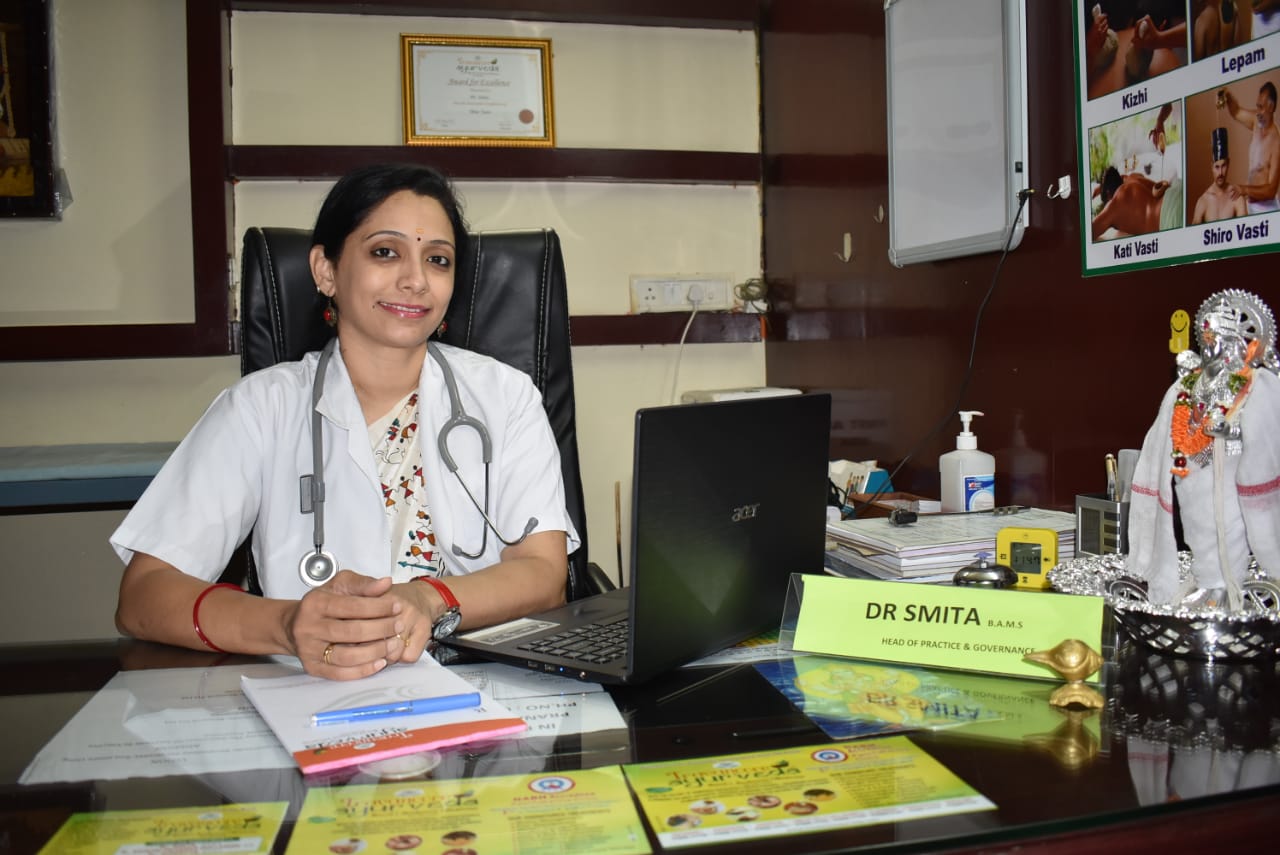 Senior Doctor is available for consultation
*prior appointment is mandatory
Dr.Smita, B.A.M.S -Center Head -Madinaguda
Head of Practice & Governance 
Dr.Smita  is extremely passionate about bringing the benefits of Ayurveda to the world and has contributed immensely to this cause by numerous activities in this field. Dr Smita has over 15 years of experience in Ayurveda and is an accomplished Ayurvedic Specialist. Dr Smita is one of the Senior Management of the company and has been instrumental is setting up ofall the clinics and hospital of Travancore Ayurveda. Dr Smita heads the panel of experienced Doctors in Travancore Ayurveda and is the Head of Practice and Governance. Dr Smita has immense experience in NABH Accreditation process who along with her panel of Doctors has ensured that most of the clinics of Travancore Ayurveda are NABH Accredited. Dr Smita has set up her unique Governance practices to ensure treatments are most effective through a seamless monitoring process which gives absolute confidence and transparency to the patients. Dr Smita has graduated BAMS from BM Kankanwadi Ayurvedic Mahavidyalaya, Belgaum, Karnataka. Dr Smita holds a Diploma in Panchakarma – Doctor's training course from Center for Indian Medicine, Thrissur Kerala.
Dr Smita is having long years of expertise in treating skin diseases, Osteoarthritis, spondylitis, upper respiratory diseases, Post-natal care (Mathruraksha), joint pain disorders,weight management and stress related ailments.
Dr. Sreelakshmi Vijay, B.A.M.S -Center Head-Sainikpuri
Dr. Sreelakshmi Vijay is from Koyyam, Kerala where she lived in the vicinity of thick green belt of medicinal plants and herbs, which influenced her to choose her passion in Ayurveda and classical medicines. Dr Sreelakshmi has over six years of experience in Ayurveda and has served well known hospitals such as Kottakal Aryavaidyasala, Athreyam Ayurveda and Ittoozhi Namboodiris Ayurveda. Dr Sreelakshmi has graduated BAMS from Rajiv Gandhi Institute of Health Sciences, Bangalore in 2013 and has completed her internship from Mangalore and Thrissur.
Dr Sreelakshmi is the Head of Center of Travancore Ayurveda , Sainikpuri Hyderabad (an NABH Accredited Panchakarma clinic) and has been contributing to the organisation in various areas such as pharmacy, software implementation and therapist management. Dr Sreelakshmi heads the Software implementation project "SITA" , the integrated software platform of Travancore Ayurveda. Dr Sreelakshmi also heads the Pharmacy and manages the procurement and distribution of various medicines and products.
Dr Sreelakshmi is specialised in treatments for eyes, joint pains, skin related ailments apart from handling all chronic diseases.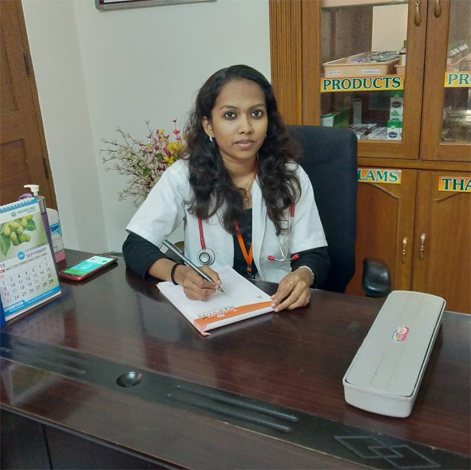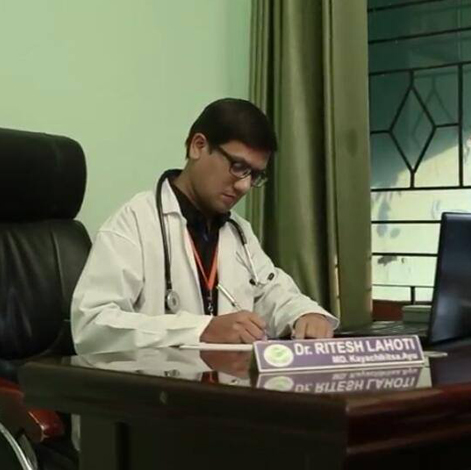 Dr. Ritesh Lahoti, M D -Center Head -Gachibowli
Dr. Ritesh Lahoti  is one of the finest Doctors in the Ayurveda fraternity who has so many successful treatments in his practice. Dr Ritesh is one of the senior Vaidya ( Doctor) of Travancore Ayurveda and has been with Travancore Ayurveda for the last four years.
 Dr Ritesh is a Post Graduated as a topper in Kaya chikitsa from Shri B.M.K Ayurveda Mahavidyalaya , KLE University, Belagavi in 2016. During his post-graduation he gained hands on experience in various disciplines of Ayurveda, mainly panchakarma therapies, management of liver disorders, neurological disorders, musculoskeletal disorders, respiratory diseases, endocrinal disorders, skin diseases, preparation and administration of Ayurvedic medicines, rakta mokshana and agni karma. He also published many articles such as successful stories through Ayurvedic management in many international and national journals. He is also awarded as best outgoing PG scholar. Apart from being a profound believer in pure Ayurvedic medicines he also has interests in Ayurvedic cooking and Yoga, and has conducted several sessions in these areas. He garners satisfaction in the process of working towards the collective goal of Ayurveda, i.e. maintaining the health of the healthy and treating the diseased.
Dr Ritesh is the Center Head of Travancore Ayurveda, Gachibowli center. He has spearheaded the NABH Accreditation of Gachibowli clinic. Dr Ritesh plays an active role in establishing new treatments and has specialised in "Punarbhava" – the Infertility treatment of Travancore Ayureveda.
Dr. Tentu Rambabu MD -Center Head -Visakhapatnam
Dr Rambabu  is an MD in Ayurveda Samhita and has graduated his BAMS from Dr. N.T.R. University Of Health Sciences, Vijayawada, Andhra Pradesh, apart from his Masters in Yoga (MSc Yoga) from Annamalai University.
He has over 3 years of experience in Faculty as Asst Professor in Ayurveda industry in various places such as Jammu institute of Ayurveda and Research View More, Jammu, Jammu & Kashmir, Saraswathi Ayurveda Hospital and Medical college, Chandigarh, Punjab. Dr Rambabu has presented and published numerous papers and articles and has attended various Ayurveda National and international conferences. His involvement in various forums of Ayurveda , his past experience and his passion will be instrumental to his immense contribution to the revival of the awareness of Ayurveda in the country along with Travancore Ayurveda.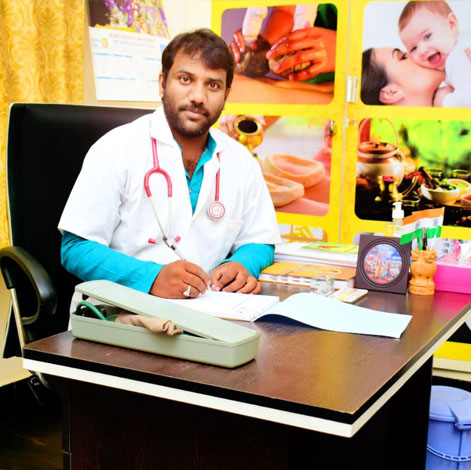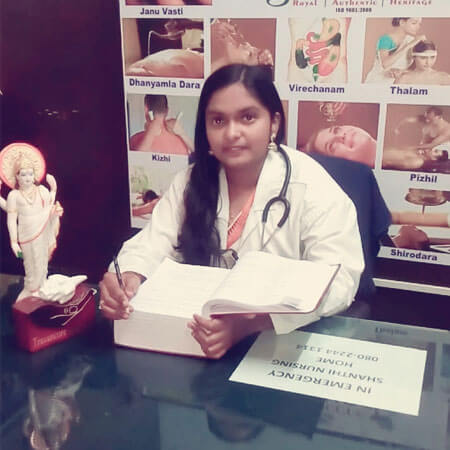 Dr.Reeshma, M D -Center Head -Jayanagar
Dr Reeshma is born in a family of renowned Ayurvedic physician from Kochi, Kerala -the cradle of Ayurveda. Dr Reeshma is blessed with the influence of authentic Ayurvedic tradition of Kerala. Dr Reeshma has over 7 years of experience in practice and has served in reputed organisations such as Kottakal Aryavaidyasala.
Dr Reeshma graduated  BAMS from Alva's Ayurveda college Mangalore, a renowned institute in Ayurveda and completed her Masters ,MD in Alternative Medicine from Indian Board of Alternative Medicine. She has a strong experience in treating patients with arthritis, diabetes, haemorrhoids, asthma and other autoimmune disorders. Along with Ayurveda she is also inclined towards Trichology and has worked as senior Trochologist in prestigious skin & hair clinics. She excels in psychological counciling which has helped her in treating psychological disorders as well.
Dr Reeshma is the Center Head of Travancore Ayurveda , Jayanagar, Bangalore and has established the clinic since last 4 years. She has contributed immensely towards the NABH Accrediation of the clinic and is a seasoned blogger in various topics in Ayurveda.
Dr. Priyanka K J, B.A.M.S-Center Head -Nallagandla
Dr Priyanka K J comes from an Ayurveda Practicing family where her Grandfather Late Kuridiyara Raghavan Vaider was an Ayurveda Practitioner over 6 decade. She is ambitious to follow her foot steps of her Grandfather and only Grand child to full fill his dream. She Graduated from Sri Jayendra Saraswathi Ayurveda College and hospital ,Nazerthpet Chennai.
She has been practicing since her graduation at various reputed Ayurveda centers and hospitals . She has been responsible for maintaining the in- patient and out- patient departments and the pharmacy. She had showcased her treatment skills in Panchakarma therapie and treatments for patients in Kerala process like Patrapodalapinda swedam, Udwarthanam, Pizichil and Nasyakarma, Surgery related to Piles and Fissure and done treatments for Paralysis, Arthritis and Skin orders. Also have better understanding of Yoga Practise.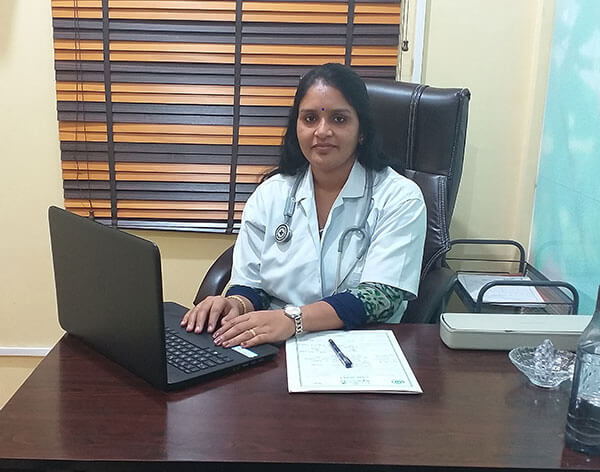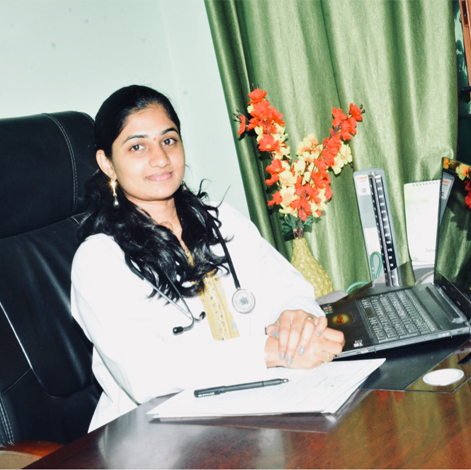 Dr. Gayatri Mullapudi, M. D -Associate Centre Head -Madinaguda
Dr.Gayatri Mullapudi is post graduated in Samhita and Siddanta from Sri Dharmasthala Manjunatheswara College of Ayurveda and hospital, Hassan (Rajiv Gandhi University of health sciences, Karnataka) in 2017. She completed her under graduation from Sri Jayendra Saraswati Ayurvedic College and hospital, Chennai (Sri Chandrasekharendra Saraswati Vishwamahavidyalaya, Kanchipuram, Deemed University). She has done post graduation and Diploma in Yoga Vijnana (Rastriya Sanskrit Vidyapeeth, Deemed University, Tirupathi) in 2014.
During her post graduation she has got experience in Ayurvedic concepts and also treatment principles. She is also experience in diagnosis of diseases at Dosha Dhatu level and treating them. She is well versed in analyzing Deha prakrithi (body constitution). She presented scientific papers in various International and National seminars and published research and review articles in International and National Journals. She has done research work on "critical edition of Vijneyartha prakashika – commentary on Shareera sthana of Astanga Hrudaya" (Manuscriptology).
Dr. Raseena Sulaiman, B.A.M.S, Msc.(Psy) - Center Head - Vijayawada
Dr Raseena Sulaiman has completed graduation in Ayurveda from The Dr. M.G.R.Medical University, Chennai in 2011. She also learned classical ayurveda under the traditional guru mukha classes at Ullannoor Mana, Thrissur, Kerala under the guidance of late VMC Namboodiri. She pursued her masters in Clinical Psychology to strengthen her clinical practice. Growing up in a renowned family famous for Ayurveda Medicine manufacturing, she developed her interest in different ayurveda formulations.
Dr Raseena Sulaiman has an overall experience of nine years. She served as RMO and Consultant in various Hospitals and Clinics across Kerala and Tamil Nadu. She also has international experience, as Ayurveda Physician at a Clinic under Oman Health Ministry (MOH), Sultanate of Oman.
Dr. Raseena Sulaiman specializes in Joint disorders, Spine care, Respiratory Diseases, Infertility, Prenatal and Postnatal Care, Menstrual Disorder, Menopausal issues, Rehabilitation for Autism kids etc. She has keen interest in preventive ayurveda by Food and Lifestyle modifications along with wellness care and Detoxification procedures like Keraleeya Ayurvedic Panchakarma  Therapy, Hijama Therapy and etc.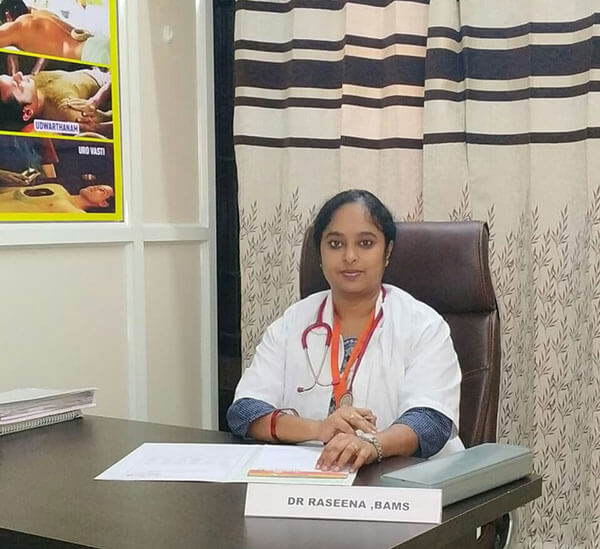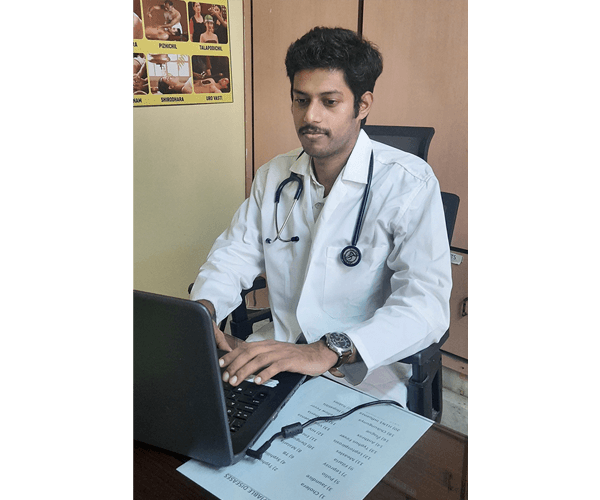 Dr. Mithun P. K., B.A.M.S - Associate Centre Head -Vizag
Dr Mithun is originally from the birth place of Ayurveda-Kerala and he is very fortunate enough to be introduced to the science of life very early in childhood. His interest slowly turned into a passion and a strong desire for knowledge and it made him realize that the joy of learning intricate details of the Ayurvedic system is truly unique. Dr Mithun completed graduation from Kannur university. Dr Mithun has over 4 years of experience in Ayurveda and worked in well-known hospitals and Gov. Ayurveda dispensaries.
Dr Mithun is known to have expertise in Skin ailments, Respiratory and Musculo-skeletal diseases. He has been quite productive as evidenced by his collaboration with well-established pharmacies and by his eagerness for and commitment to his work. His treatment is result oriented, and he managed to find solutions to every challenging problem. He is also a yoga instructor, and the qualification for Ayurveda also includes yoga. Dr Mithun wants the Ayurveda to be elevated to the next level where the common man could find the system scientifically trustworthy. 
Dr. Srishti Mehrotra Khanna ,B.A.M.S, PG Diploma (Ayu) - Centre Head- Jubilee Hills
Dr. Srishti Mehrotra Khanna is a B.A.M.S. Graduate from Bharati Vidyapeeth University, Pune. After that, she did her Post Graduate Diploma in Panchakarma from Banaras Hindu University.
She is also a certified Yoga Practitioner from Banaras Hindu University. Dr Srishti's experience range from working in various ayurvedic colleges and hospitals as practicing Panchakarma Doctor to working with Sri Sri Tattva Panchakarma, as Nadi Consultant Ayurvedic Doctor.
During her post-graduation diploma, she gained hands-on experience in various disciplines of Ayurveda, mainly Panchakarma therapies for shodhan purposes as well as shaman chikitsa with Ayurvedic medicines. Dr Srishti's expertise lies in the management of skin diseases, musculoskeletal disorders, and respiratory diseases.
Dr Srishti believes that Pachakarma procedures detoxifies the body and cleans the system. This cleansing helps body to reover fast from diseses or illness.