Travancore Ayurveda presents its proprietary throat care gargling powder GALASHODAKTM, enriched with the goodness of Ayurveda and essential herbs like Yastimadhu, Saindhava Lavana, Haridra, Tulsi, Lavanga, Pudina, Twak processed in various proportions.
GalashodakTM, an herbal powder for gargling for complete throat care. In Ayurveda, medicated gargling is called as "kabala" a procedure described in dinacharya. This is very useful in prevention of the diseases of the throat. In this procedure patient will be holding comparatively small quantity of liquid in the throat and made to move briskly and spitting out. It clears the throat, hoarseness of voice, sour throat, and mucus accumulation in throat.
Indications of Galashodhak
GalashodanaTM (Clearing/cleaning of throat)
Swarabhada (Hoarseness of voice /Dysphonia)
Kapha dosha (Mucus accumulation in throat & mouth)
Kantha shoola (Throat pain/sour throat)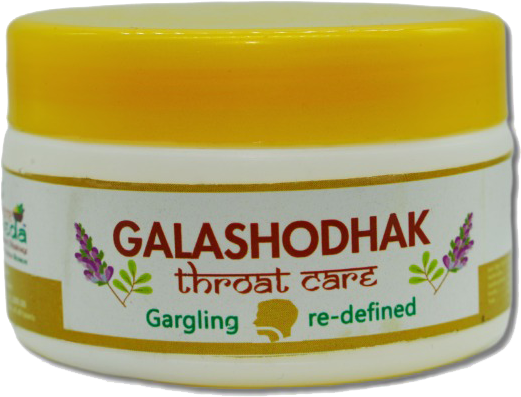 Benefits of Galashodak:
GalashodakTM provides relief Sore throat
GalashodakTM helps reduce hoarseness of voice
GalashodakTM prevents mucus accumulation, loosens tough mucus in throat
GalashodakTM fights infection in throat
GalashodakTM gives relief from throat inflammation
GalashodakTM rinses away germs
GalashodakTM gives relief to vocal codes
How to use Galashodak?
Mix 3 gms of GalashodakTM well with 60ml hot water and gargle 2 to 3 times a day .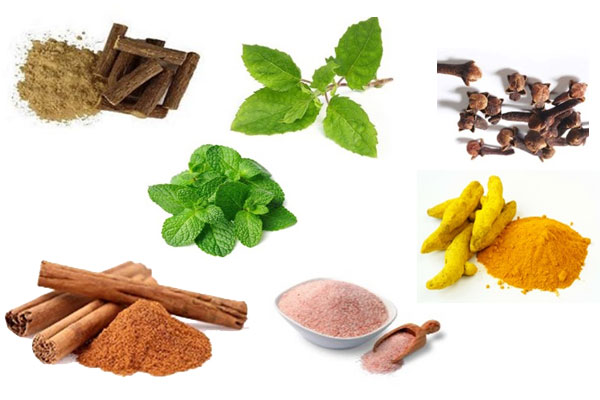 Yashtimadhu – Promotes oral health, cough, sore throat. Being anti-inflammatory and expectorant in nature it soothes the respiratory tract, anti-microbial property of yastimadhu helps to shields the body from various microbial infections
Saindhava lavana – Aids digestion, treat sore throat. Very effective in respiratory problems.
Haridra  – Anti oxidant, prevent cancer, A natural immunity booster,Very effective antiseptic  and anti-inflammatory herb.
Tulsi  – Anti cancer property, reduce cough, cold, natural immunity booster. Excellent detoxifying agent, anti-microbial in nature.
Lavanga – Kills bacteria, effective at fighting cavities,Relieves tooth pain, serve as expectorant, aids in digestion
Pudina – Keeps your mouth moist  & fresh, strengthening teeth & gums.
Twak  – Fungal infections in the mouth, improves digestion, cough, remedy for tooth ache, anti-inflammatory in action