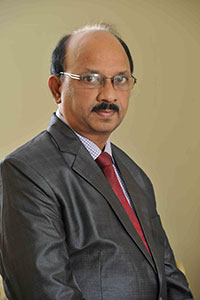 Dr. R. Vidyanath
Travancore Ayurveda  is honored to have, Dr. R. Vidyanath professor and H.O.D (samhita), at the Dr. B.R.K.R Govt. Ayurvedic College, Hyderabad. His achievements are exemplary and second only to very few. Dr. R.Vidyanath Has published 39 research papers and attended over 48 seminars. He is the member of CCIM and BOS-PG. He was awarded the best teacher award in the state of A.P. in 2013 and this drive for research and teaching has motivated him to write 15 books on various subjects in Ayurveda. He has guided 7 M.D. thesis and his books serve as reference point for all ayurveda practitioners, students and enthusiasts.
There is hardly a student of ayurveda who has completed his education without reading a single book written by him. This very fact itself is a testimony to his profound knowledge in the field of ayurveda and panchakarma. We at Travancore Ayurveda under his enlightening guidance, strive to provide the authentic Ayurveda therapies at state of the art NABH accredited centers.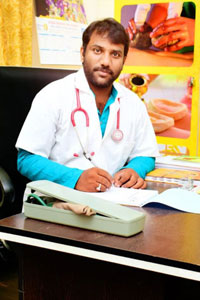 Dr. Tentu Rambabu, MD
Dr Tentu Rambabu is an active campaigner of Ayurveda in the Telugu states of Andhra Pradesh and Telengana. Dr Ramababu hails from Vizianagaram, known as the city of great scholars. Dr Rambabu has over 8 years of experience blending lecture room and practical experience in Ayurveda and has served and treated numerous patients.
Dr Ramababu has graduated his BAMS from Dr N.T.R University of Health Services, Vijayawada and has completed his MD in Ayurveda Samhita from BRKR Government Ayurvedic College , Hyderabad. Dr Rambabu also has a Masters in Yoga (MSc Yoga) from Annamalai University.
Dr Rambabu served as a Professor at Jammu Institute of Ayurveda before joining Travancore Ayurveda as a Centre Head in Visakhapatnam. Dr Rambabu has presented and published several papers and articles and has attended various Ayurveda National and international conferences. His involvement in various forums of Ayurveda , his past experience and his passion will be instrumental to his immense contribution to the revival of the awareness of Ayurveda in the country along with Travancore Ayurveda.  Dr Rambabu has been very active in the process of NABH Accreditation of most of the clinics of Travancore Ayurveda.  Dr Rambabu have been successful in spearheading the setting up of two clinics of Travancore  Ayurveda in the best strategic locations of Visakhapatnam.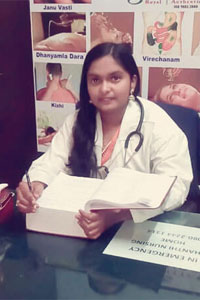 Dr Reeshma B.A.M.S , MD( AM)
Dr Reeshma was born in a family of renowned Ayurvedic physicians from Kochi, Kerala -the cradle of Ayurveda. Dr Reeshma is blessed with the influence of authentic Ayurvedic tradition of Kerala. Dr Reeshma has over 7 years of experience in practice and has served in reputed organisations such as Kottakal Aryavaidyasala.
Dr Reeshma graduated  BAMS from Alva's Ayurveda college Mangalore, a renowned institute in Ayurveda and completed her Masters ,MD in Alternative Medicine from Indian Board of Alternative Medicine. She has a strong experience in treating patients with arthritis, diabetes, haemorrhoids, asthma and other autoimmune disorders. Along with Ayurveda she is also inclined towards Trichology and has worked as senior Trochologist in prestigious skin & hair clinics. She excels in psychological counciling which has helped her in treating psychological disorders as well.
Dr Reeshma was the Center Head of Travancore Ayurveda , Jayanagar, Bangalore and had established the clinic for the last 5 years. She has contributed immensely towards the NABH Accreditation of the clinic and is a seasoned blogger on various topics in Ayurveda