At Travancore Ayurveda, we held a special event dedicated to our beloved seniors, who have played a significant role in shaping our society and communities. In recognition of their wisdom, experience, and contributions. We held this program on September 22nd, 2023 (Friday) at all Travancore Ayurveda Clinics.
On this special day, we have offered Free Ayurvedic health consultations for senior citizens. Our experienced Ayurvedic doctors and wellness experts have provided personalized guidance and advice about various health concerns and how they can improve overall well-being.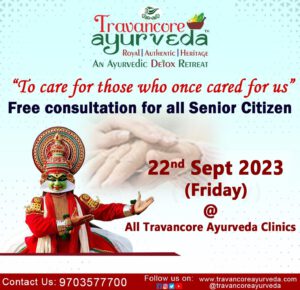 "Feed the Needy" program by Travancore Ayurveda.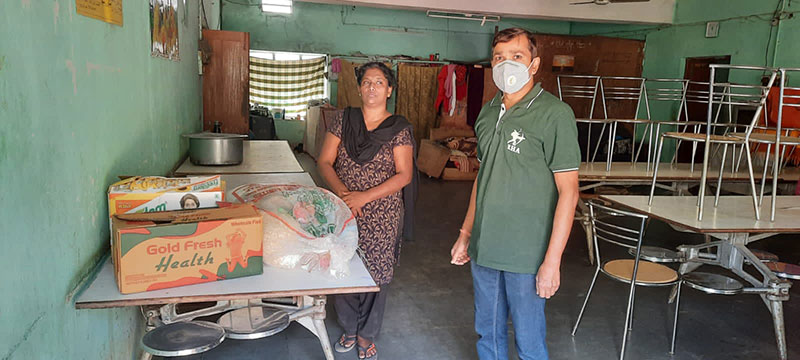 "Peace begins when the hungry are fed"
Travancore Ayurveda as a part of its Social Responsibility is keen to contribute to the needy section of the society by donating medicines, immunity boosters, food, and groceries whenever there is an opportunity.
Travancore Ayurveda as a part of their humble contribution to society has distributed groceries for feeding 60 people at Ashraya Old Age Home, Miyapur with the help of RHA Lingampally on 18th December 2021.
Wear a mask to break the chain of COVID 19
Covid 19 is still actively spreading across people , however we are seeing a trend of many people somehow forgetting the need of using masks and are freely moving in public places. Our submission to the people is to wear a mask to break the chain of COVID 19 spread as much as possible. This is going to help us not spread to others as well as not to get infected to us as well. We shall try to avoid being carriers of COVID 19 spreading  to our elders at home and in neighbourhood.
As a part of our Social Responsibility and its commitment to the society , Travancore Ayurveda have started a campaign of distributing face masks to the people to use themselves or to lend to those who are in need. The objective is to make sure every poor person in urban areas who can't afford a mask shall be provided with a mask by us directly or through others.
We can immensely contribute to our society just by wearing masks ourselves and hence the slogan  " Wearing a mask shows " Kindness" to the society".
Travancore Ayurveda has committed to the health and well being of the society by taking a step forward in beating COVID 19.
Do not text and drive
Texting has become only second to the primary life activities like breathing,eating and drinking. It is not exaggeration that we now spend a considerable time with our family over phone. Trying to this while reading or typing a text is life endangering not only for the person who is doing this but also the co passengers, pedestrians and other motorists.
Driving needs complete focus and attention. Multi tasking while driving is perilous, especially texting while driving has been statistically proven to be more dangerous than driving under the influence of alcohol. (here, study conducted by Car and Driver magazine )
Nobody would want to involve oneself in endangering the his own life or others'. It is often this lack of awareness that one resorts to texting and driving.
Travancore Ayurveda takes this opportunity to reach out to motorists and educate them with the perils of texting and driving. An intent to make the roads safer, for every person to reach safely back to their loved ones.
Travancore Ayurveda has conducted "Do Not Text and Drive" Campaign at Major Traffic Signals & Junctions at (KBR Park,Jubilee Hills Check Post,Filmnagar Signal,Hitec City,Gachibowli flyover, DLF Junction.Wipro Circle,Tirumalagiri signal,ECIL Junction,Radhika Theatre Junction,Miyapur X Roads,BHEL signal,Allwyn X roads in Hyderabad,Benz Circle ,Siddharth Junction,Gurunanak Colony Junction in Vijayawada,Wipro Circle,HSBC Signal,Jagadamba Junction in Vizag and Jayanagar 4th Block in Bangalore)
Sukhino Bhavantu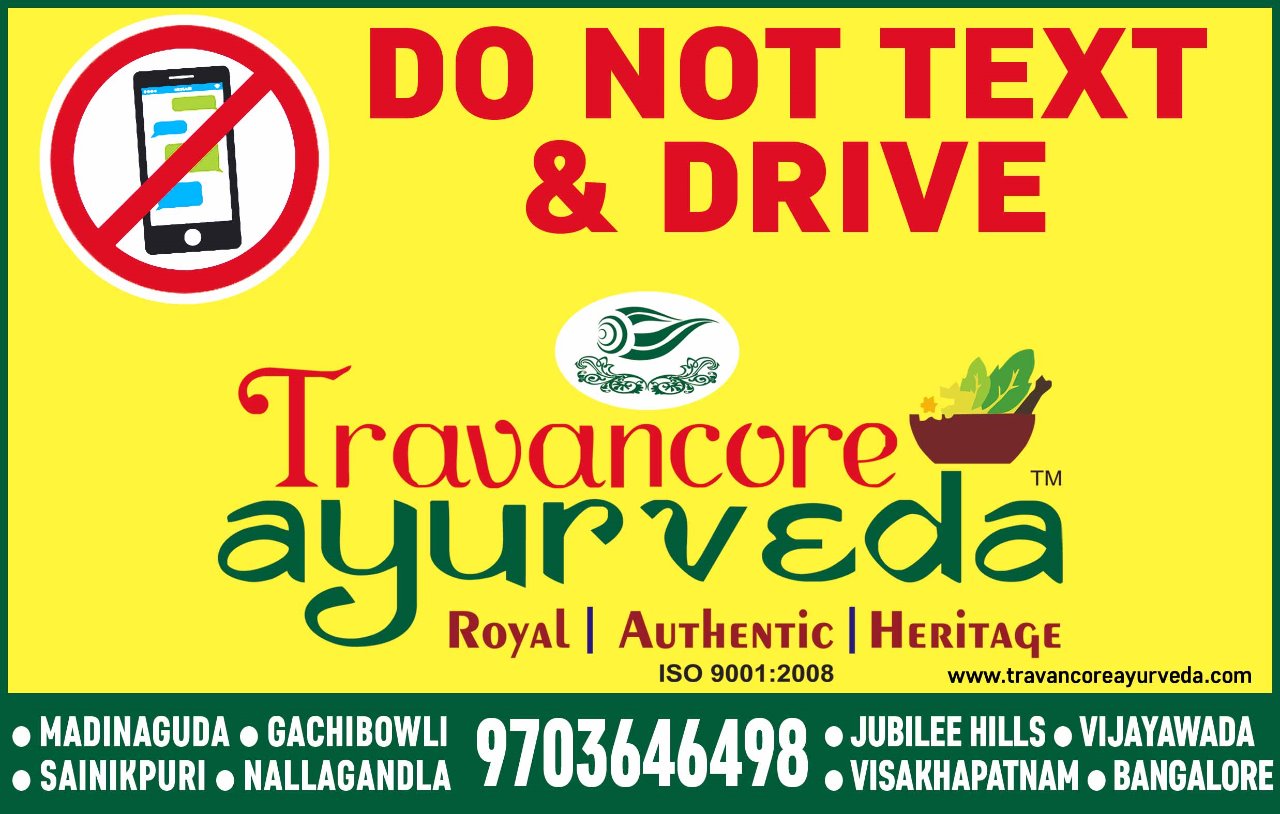 Tulasi Campaign
Travancore Ayurveda, exists as a result of the patronizing efforts of the Royal kingdom of Travancore in preserving its' heritage. The bounty of kerala's forests have made Travancore Ayurveda viable today. When a collective human effort talks about keeping the earth green, it is a metaphor for watering one's own roots. To help keep the earth greener is only going to nurture our own existence. The team at travancore is dedicated to this cause. Nothing is more closer to us than a cause that will restore, replenish and nurture the earth. The lush green forests boisterous with wildlife, have earned Travancore kingdom a name of Paradise on Earth.
Travancore Ayurveda takes these values to urban life and compels everyone it come is contact with to create a small green space in their vicinity by planting Tulasi Plants.
Let not, Tulasi's humble appearance and common-ness dilute its amazing benefits.
While the world is looking at a cliff owing to antibiotic resistant disease, tulasi is the answer to strengthen immunity against such infections. Consult today at Travancore Ayurveda, to know more.
Travancore Ayurveda is distributing Tulasi plants at KBR Park(Kasu Brahmananda Reddy National Park) & Botanical garden Hyderabad almost every weekend.
Save nature for our future
Kerala flood relief fund
The nature's fury unleashed in the god's own country made the lands of kerala witness the worst floods in its history. Our heart went out to all those who lost their beloved homes and belongings. The sweet nothings and loving memories enmeshed in ones home are irreplaceable. There was little we could to bring back what was lost, but the Team at Travancore Ayurveda provided all its affected employees with relief funds that could help pick pieces of their life back. Comfort and optimism was what we could provide with this financial aid.
We wish them from the bottom of our hearts, Sukhino Bhavantu