Neem tree is called as,'Sarva RogaNivarani' in Ayurveda. Commonly it is known as DIvine Tree. This is very commonly found in every part of India. It is one of the best herbal medicines, which is being used for thousands of years by our great ayurvedacharyas (ayurvedic physicians). Today also researches have shown to possessmedicinal properties like Anthelmenintic, Antiseptic, Antidiabetic, Antibacterial, Antifungal, Antiviral, Antihistamine, and Contraceptive Etc.
Different parts of Neem trees are being used are:
Leaves, Flowers, Seeds, Roots, Bark, and Fruits
Popular Medicinal Use ofNeem (Nimb)
Best blood purifier
Good antipyretic.
Neem oil extracted from seeds is used in cosmetic products
Neem leaves are used to treat chickenpox
Leaf paste is to skin for treatment of acne.
Neem tea is taken to reduce headache and fever
Neem bark acts as an analgesic and can cure high fever of malaria
Neem flowers can cure intestinal problems
Aqueous extracts of Neem leaves have demonstrated significant antibiotic potential
Neem is used as arthritis, rheumatism,
Neem is used for manufacturing of many health and beauty care products like bath powders, bathing soaps,shampoos,cream and lotions
Twig of neem is being used as a tooth brush, as it takes care of teeth.
Dry neem leaves powder is used in libraries to keep off book-eating worms
Neem leaves are used to protect stored grains from insects
Neem is the most effective and environmentally friendly source for pests.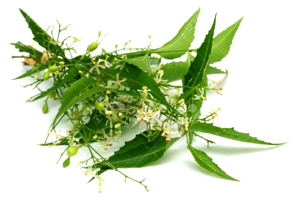 Dr. Smita, B.A.M.S