Dates are fruits of Date palm. These are known as "Kharjura" in Sanskrit. Kharjura is a one of the commonly used fruits and is one among the Madhura triphala.
TYPES OF KHAJURA
| | | | |
| --- | --- | --- | --- |
| ACCORDING TO | TYPES   |   |   |
| ACHARYA BHAVAMISHRA | Bhumi kharjurika | Chohara |   |
| RAJA NIGHANTU | Kharjuri | Raja kharjuri | Bhu kharjuri |
SOME OF THE COMMON VARIETIES OF DATES ARE
KHADRAWI

KHADRAWI

AMBER

YELLOW BARHI

KUSTAWI

ZAHIDI

MEDJOOL

DEGLET NOOR

BARHI
INFORMATION ABOUT FRUIT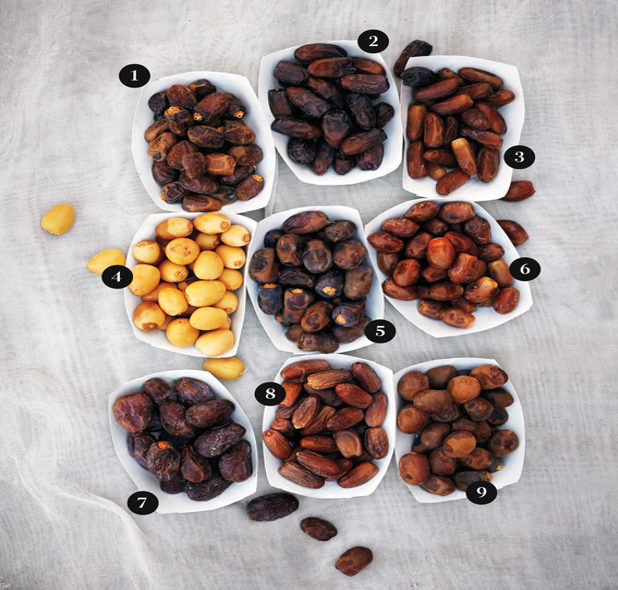 | | |
| --- | --- |
| Botanical name | Phoenix sylvestris roxb |
| Family | Arecaceae |
| Vernacular names | Hindi : kharjur Telugu : kharjuramu |
| Synonyms | Skandha phala,Bhumi kharjuraka |
| | |
| --- | --- |
| RASA | Madhura |
| GUNA | Seeta, snighda, guru |
| VEERYA | Seeta |
| VIPAKA | Madhura |
| KARMA | vata pitta hara ,hrudya ,balya ,vrishya, brahmana |
Dates fruits are very tasty and nutritious food. They are rich in carbohydrates such as sucrose, glucose and fructose (65% – 80%), and a good source of fibres and some essential minerals. They are low in fat and protein, high in sugars and have no starch. Dates are excellent source of niacin, B6, riboflavin, thiamine, pantothenic acid, copper, potassium, manganese, magnesium, iron and phosphorus. They are good source of zinc, selenium and folic acid.
THERAPEUTIC BENEFITS OF DATES ARE AS FOLLOWS.
Role of khajura in Arthritis: Balancing Vata is one of the main action of dates, as Vata is the root cause of joint pain and inflammation. These fruits are also rich in potassium. Hence people suffering from joint pain and arthritis get benefited by the consumption of these fruits.
In constipation: Dates are one among the fibrous food and relieves constipation
In cystitis: Dates act as diuretic and body coolant ( seeta veerya ) as explained in the rasa panchaka. They are very helpful in conditions like cystitis, UTI and burning micturation.
In Erectile Dysfunction: Many Ayurvedic formulations which are used for treatment of erectile dysfunction contain dates. Erectile dysfunction can occur in potassium deficiency and also when there is imbalance between levels of sodium and potassium. Potassium rich dates help men to overcome these conditions effectively.
In low sperm count: According to ayurvedic text "Bhava Prakasha", Kharjura are known to function as "Shukrala" . The nutrient rich fruit help to increase quality and quantity of semen.
Toothache – The juice obtained from kharjur plant is used to cure toothache.
In Weight gain: Dates are high in calories. Hence they help to gain healthy weight. Eat around 10 to 15 dates per day followed by a glass of milk to increase body bulk.
In acidity: Dates are known to pacify pitta and helps in acidity. Its alkaline nature helps to reduce discomfort caused due to excessive acid secretion in stomach.
In Anaemia: These fruits are excellent source of iron and are very useful in anaemic patients.
Nervous System – Kharjur powder is used to strengthen the nervous system.
Respiratory Disorders – Powder of kharjur is also used to get relief from respiratory disorders and improves general health of the body.
Blood Circulation – Khajur fruit intake improves the blood circulation in the body.
Bedwetting – Take few date fruits. Remove the seeds. Roast black sesame seeds. Mix both the ingredients. Give round ball like shape (Laddu). This should be eaten to prevent bed wetting.
BENEFITS OF KHARJUR DURING PREGNANCY
Women during pregnancy need a lot of energy. So eating Dates fruit will help her in gaining instant energy.

kharjur provide adequate amount of proteins to the body.

Consuming dates in pregnancy helps in three ways. It prevents occurrence of anaemia and eases the delivery pains. It reduces bleeding after delivery.

These fruit helps in maintaining healthy digestive system and also deals with pregnancy related constipation.

The fiber in the Dates reduces the cholesterol levels and protects pregnant women from infections.

kharjur helps in maintaining a healthy weight during pregnancy.

Iron present in the fruit plays an important role in a number of metabolic processes.

Eating of Dates helps to maintain the blood pressure in pregnancy women.

Potassium in Dates maintains water balance during pregnancy

The above are some of the health benefits of kharjur. Kharjur causes no side effects when taken in normal dosage.
Experience the power of Ayurveda for radiant and healthy skin at our specialized skin care clinic in Bangalore from Ayurvedic clinic in Bangalore. Also, Experience the benefits of Ayurvedic Cataract treatment in Bangalore at our specialized Ayurvedic hospital in Bangalore.
Dr.Gayatri Priyanka.Mullapudi MD( Ayu) PG.D in yoga
Read Blog Article: ROLE OF AYURVEDA IN GEARTRIC