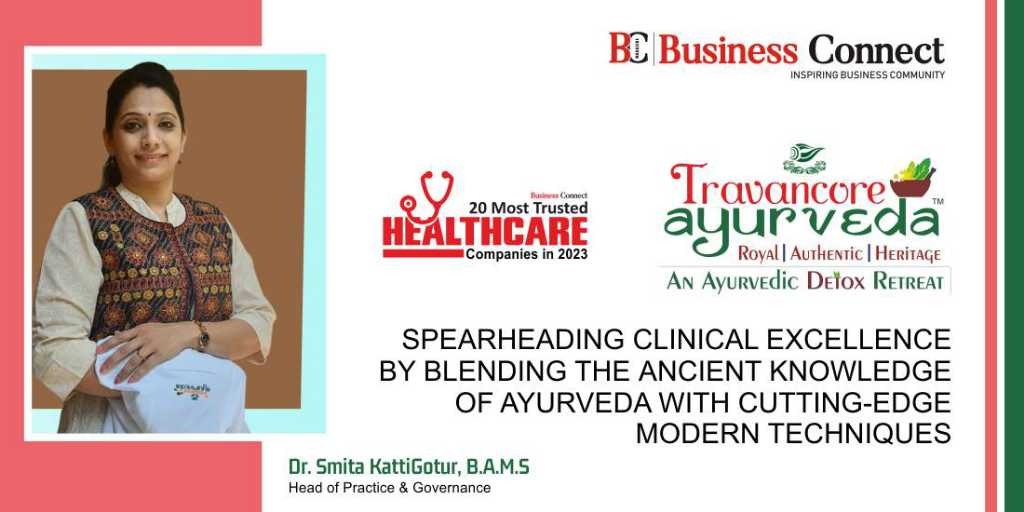 Ayurveda, a treasured gift from the Gods to humanity, is a science of life that helps all living things preserve psychological and spiritual wellbeing while reducing and curing illness. With its legacy dating back a decade and an unwavering dedication to societal enhancement, Travancore Ayurveda continues to be at the forefront of highquality therapies, medications, practices, detoxification, and various rejuvenating therapies for a healthy balance of body, mind, and soul.
Established by expert doctors and corporate professionals with a combined experience of over 100 years, Travancore Ayurveda is regarded as one of the best Ayurvedic hospitals in Bangalore, Hyderabad, Vizag, and Vijayawada, with a gamut of best efforts for the renaissance of Ayurveda. Travancore Ayurveda is Kerala's authentic Ayurveda Panchakarma clinic, pharmacy chain, and hospital, offering a plethora of incredible result-oriented treatments.
Engraved with exceptionally well-maintained hygienic facilities and spacious, comfortable premises, Travancore Ayurveda is definitely making healing better than ever. Under the direction of Dr Smita Kattigotur, B.A.M.S. Head of Practice and Governance, the clinic integrates best practices, medical needs, and individual preferences through its end-to-end tech platform in order to serve and heal everyone.
The Inception of the Leader – Dr Smita Kattigotur
Extremely passionate about bringing the benefits of Ayurveda to the world, Dr Smita has contributed immensely to this cause through numerous activities in this field. She is an accomplished Ayurvedic specialist with 18+ years of experience in Ayurveda treatments and management of diseases. The magnificent woman heads the entire organization and is a senior member of the company who is instrumental in setting up all the clinics, practices, and pharmacies of Travancore Ayurveda. She also heads the panel of experienced doctors in Travancore Ayurveda and is the Head of Practice and Governance.
All Travancore Ayurveda clinics follows NABH standards and its Madinaguda, Hyderabad, MVP Colony , Vizag clinics are NABH accredited as well, thanks to Dr Smita and her team of doctors, who have extensive experience in the NABH-accreditation procedure. The inspiring lady has established her unique governance procedures to ensure that therapies are most successful through a seamless monitoring approach that gives patients complete trust and transparency.
In academics, Dr. Smita has a BAMS from KLE's B. M. Kankanwadi Ayurvedic Mahavidyalaya, Belgaum, Karnataka. She holds a Diploma in Panchakarma—a doctor's training course from the Center for Indian Medicine, Thrissur, Kerala. She successfully completed the certificate programs in the level of documentation, clinical and general, internal audit, and quality indicators, as well as (a) legal and statutory criteria for ayurvedic practitioners.
As a part of her specialization, she finished the Certificate program in Ayurvedic Dermatology through Diksha Learning and Yoga Instructor's course from S VYASA University in Bengaluru. With the experience of Dr. Smita, Travancore Ayurveda is becoming a pioneer in Ayurvedic treatments with a total of 13 Ayurvedic clinics in Vijayawada, Bangalore, Hyderabad & Vizag. Recently they have opened one more Ayurvedic clinic in Bangalore.
Edge Over the Peers
Travancore Ayurveda has always been at the foreground when it comes to providing best-in-class Ayurvedic solutions for the healthcare industry. It stands out distinctively for its immense experience and expertise in the related field, as evident from the number of cases successfully handled by the brand over the course of about ten years. Further –
• Travancore Ayurveda follows NABH standards. Their Ayurvedic clinic in Madinaguda, Hyderabad, and Ayurvedic Clinic in MVP Colony, Vizag, both have NABH accreditation.
• Travancore Ayurveda has been an award-winning organization consistently, with lots of patient testimonials to our credit.
• Due to its affiliation with SBI General Insurance and Paramount Insurance, Travancore's Ayurvedic Clinic in Hyderabad offers a reimbursement facility.
Travancore Ayurveda's Key Focus: To Assure Optimum Quality
The entire Travancore Ayurveda team, including the founders, management, and personnel, are always in perfect synchronization to meet their quality treatment objectives. They have an extremely high standard of process, policy, and monitoring implementation, which drives them to aggressively follow NABH under Quality Council of India prerequisites.
Since the inception of Travancore Ayurveda, "quality and patient safety" have been top priorities. The leading woman stated, "We have established the quality journey with SOPs for the majority of important processes and afterwards followed the NABH standards to boost the patient's care policy.
The Traditional Wisdom of Ayurveda: At a Glance
Ayurveda is one of the best sciences, according to the entire country and the rest of the world. Ayurveda, however, never sufficiently kept evidence in the past to support its astounding efficacy. The team of professionals at Travancore Ayurveda did their utmost to collect all patient data throughout the course of therapy and thereafter. They also used technology to do so. They believe Travancore Ayurveda will be the leader and future in proving to the world that Ayurveda is one of the best sciences based on its own data collected and monitored over a long period of time.
The Milestones Along the Way
Travancore Ayurveda introduces natural formulas with enhanced security to assist natural healthcare, driven by its goals of fostering health and happiness for everyone. When COVID-19 was in effect, the company ventured into the pharmaceutical industry and obtained "Ayush Kwath," one of the greatest immune boosters, as its first product. After that, there was no turning back, and the company launched approximately 15 commonly used classical medicines to make sure that patients received the most benefits from both its effective medicines and authentic therapies.
The Travancore Ayurveda made another milestone in 2022 when it developed Galashodak, the first Ayurvedic gargling powder in India, under its own patent. This powder for gargling is quite unique and has the potential to be one of India's most beneficial gargling remedies. Another step forward for Travancore in the sector is insurance coverage for daycare in Ayurveda. Despite the fact that there is still a long way to go, there is widespread optimism regarding the insurance industry, and they have already partnered with SBI General Insurance and Paramount Insurance to be among the first to offer affordable treatments.
Awards and Acclodaes that Symbolise Travancore's Success
• "Best Ayurvedic Detox Clinic Chain in India" at India's Most Prominent Indian Icon Awards – 2021
• "Award for Excellence in Ayurveda"at World Healthcare & Wellness Congress Awards function in Mumbai 2020
• "Best Panchakarma Clinic in South India" at India Business Awards 2019 Organised by "Blindwink"
• "Best Ayurvedic Treatment Specialist India 2018 by GHP (Global Health & Pharma)
• "Most Trusted Ayurveda Centre In South India" Award at the International Healthcare Awards2018 Organised by Times Cyber Media.
• "Health Leadership Award" at Visakhapatnam Organised by "Visakhapatnam Healthcare Awards 2018"
• "Best Panchakarma Clinic and Wellness Chain in India "in India's Most Prominent Healthcare Awards 2017 By Merit Awards Market Research.