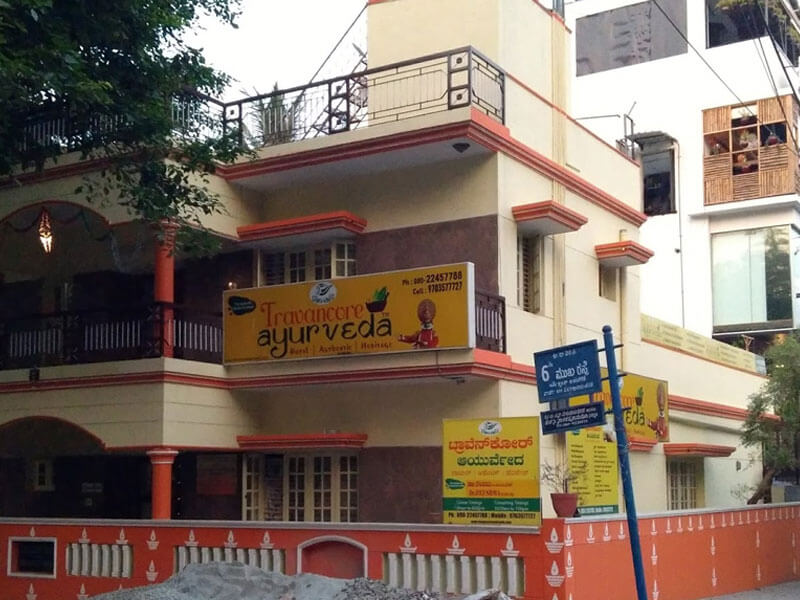 Best Ayurvedic Hospital in Bangalore
Travancore Ayurveda, an authentic Kerala Ayurvedic Panchakarma clinic established in 2015, has the best-rated Ayurveda clinics across India and has been an award-winning organization consistently due to its great attention to treatment effectiveness. We have a strong team of well-experienced Ayurvedic Doctors and highly trained support staff. We have helped thousands of patients with our ayurvedic treatments. Our Ayurvedic Hospital in Bangalore has state-of-the-art facilities with high standards of hygiene and follows NABH standards for its operations
Best Ayurvedic Doctor in Bangalore
Travancore Ayurveda is an organization established by expert Doctors and Corporate professionals with a combined experience of over 200 years. Travancore Ayurveda has dedicated itself to making its best efforts for the renaissance of Ayurveda. Travancore Ayurveda Jayanagar, Bangalore, Karnataka, an Authentic Kerala Ayurvedic Panchakarma clinic and Pharmacy, was established in July 2017.
Ayurvedic Doctors in Bangalore
Our Ayurvedic doctors in Bangalore are trained to address the root cause of an individual's illness, not only the symptoms. We offer holistic treatments, which focus on the person's spiritual, mental, and physical health.
Panchakarma Treatment, which is one of these treatments, is designed to purify the body and detoxify it. Panchakarma consists of five steps: Vaman (emesis), Virechana(purgation), Basti [enema], Nasya ("nasal drops"), and Raktamoksha ("blood-letting"). For the best Panchakarma treatment in Bangalore, visit Travancore Ayurveda.
Panchakarma Treatment in Bangalore
Travancore Ayurveda  Jayanagar, Bangalore, offers unique Ayurvedic Panchakarma Treatments for all joint pains like Arthritis, Lumbar & Cervical Spondylitis, Sciatica, Joint Pains, Muscular Pains, Slip Disc, Sports injuries, Paralysis,
Ayurvedic treatments for Skin Diseases like Psoriasis and Eczema, Weight loss, Weight gain, Diabetes, Sinusitis, Hair Fall, Migraine, Infertility, Matru Raksha(Postnatal Care), Osta Pasadena, Stress Management, Rejuvenation, Revitalization, Relaxation and Ayurvedic Detox treatments,  Beauty & Skincare
Why Travancore Ayurveda is the best?
The unique services and best efforts we put forward to make our hospital the best across the nation. Moreover, we offer quality and exceptional treatment, therapies, and methods for all major health issues faced today. The best part of the Travancore Ayurveda hospital in Bangalore is the best Ayurveda internal and external medicines that work wonders and exceed the expectation of the patients.
Patients are delighted with expert professionals' best practices, the latest technologies for maintaining health records, and hygiene consciousness. The award-winning organization follows NABH standards for its patient's safety and care.
There are excellent natural and traditional benefits that soothe and heal diseases and also help maintain a healthy body, mind, and soul.
Travancore Ayurveda Bangalore focus is "Quality and Patient's safety", and At Travancore Ayurveda Jayanagar, Bangalore, all the ayurvedic treatments are done with internal medication and external therapies for chronic ailments.
Bangalore Clinic Location:
#211/34, 6th Main Road, 4th Block, 36th Cross Road, opp: Syndicate bank Jayanagar, Bangalore Karnataka – 560011   All Days : 07:00 AM to 08:00 PM
Travancore Ayurveda Bangalore is present in these locations.
Areas near Jayanagar4
Jayanagar 1st Block, Jayanagar 2nd Block, Jayanagar 3rd Block, Jayanagar 4th Block, Jayanagar 5th Block, Jayanagar 6th Block, Jayanagar 7th Block , Jayanagar 8th Block
JP Nagar, Banshankari, BTM Layout, Lal Bhag